1.

     
Our offer
Our company goal is delivery of high quality, elegant packaging for items such as: jewellery, medals, religious items, advertising gadgets and much more. Since 1993 we are serving industries such as jewellery, numismatics and advertising accessories industry. Since the beginning we have over 1000 satisfied customers.
We have a large stock of products available immediately. We can even send orders the same day it was placed. We also ship worldwide. Please contact us, and we will make sure that you will find boxes and cases that suit your products perfectly.
We sell in bulk – B2B (business to business).
2.

     
Medal & Coin boxes – For medals, coins, emblems & more.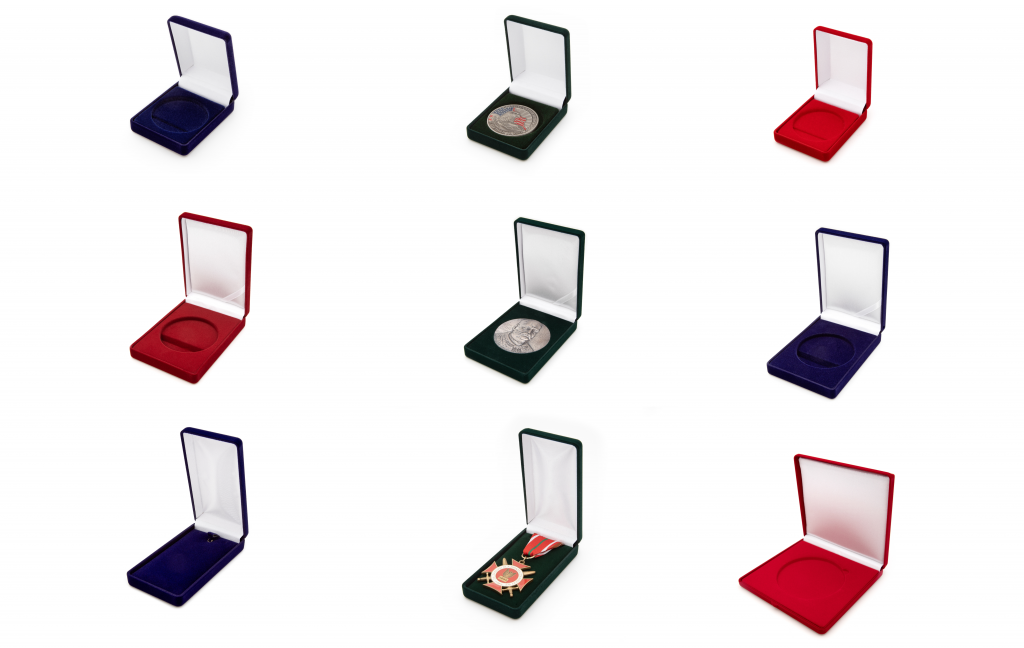 One of our most popular procuts are medal boxes. They are also perfect for other metalwork products – emblems, gorgets and coins. In stock we have boxes for different shapes and sizes. For the most popular diameters we can offer:
60mm and 70mm diameter –FU-51/C2 box
50mm diameter – FU-1/50mm box
80mm diameter – FU-23/80mm box
Medals on a ribbon – FU-18 box
35,2mm coin – FU-1/50mm with a custom pad
If the medal, emblem or a coin is in unusual shape and size – we can manufacture a custom pad. In this case we choose a box (from our current offer) and we produce replacable pad for it. It will fit your products perfectly – that's why we require a single sample of the product.
3.

     
Pin, cufflinks and tie clip boxes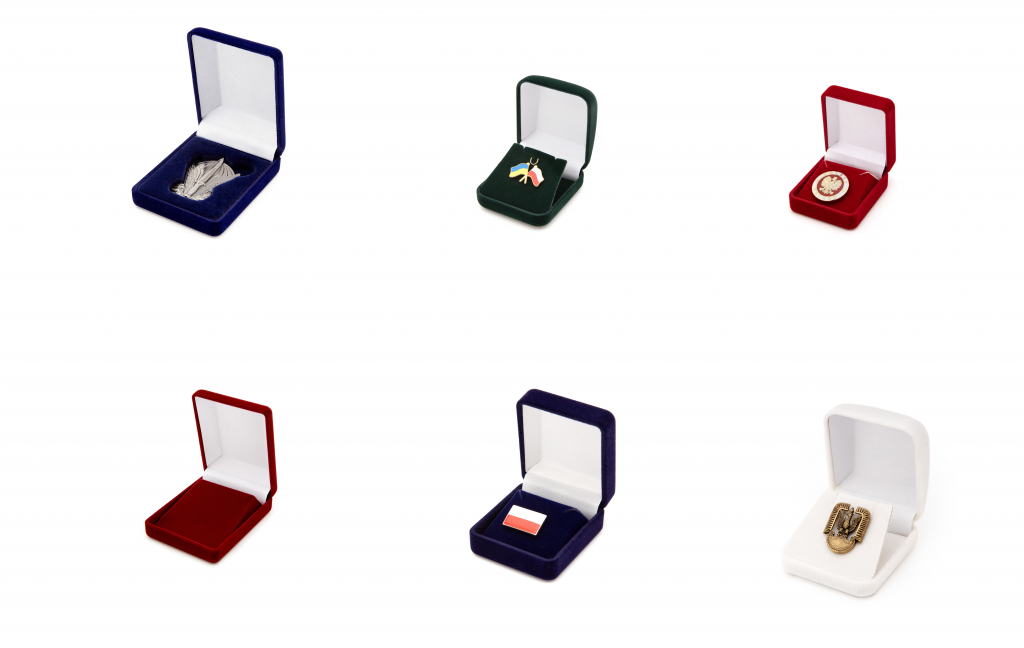 We offer elegant pin cases, with pierce-able pads, which will accomodate your pin stylishly and safely. It displays the pin nicely, while keeping it in place – very important for gifting ceremonies. These boxes are very affordable.
We can offer you packaging for any size pin, for example:
Small pin  – FU-4 box
Medium-sized pin – FU-2 box
Large pin – FU-1 box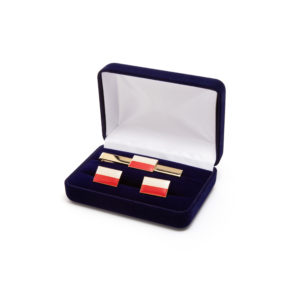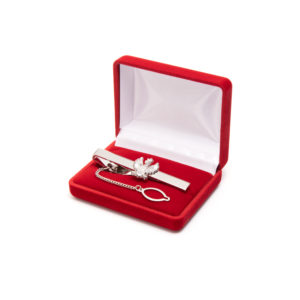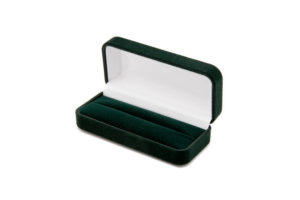 Cufflink & tie clip boxes
We also offer elegant packaging for cufflinks and clips. This packaging also suits smaller pins – it allows you to store pins, without the need of piercing the pad.
Cufflink or tie clip box – FU-14 box
Mutliple cufflinks or tie clips box – FU-13 box
Tie clip box – FU-55 box
4.

     
Jewellery boxes – For rings, wedding rings, engagement rings, earrings, necklaces, bracelets and more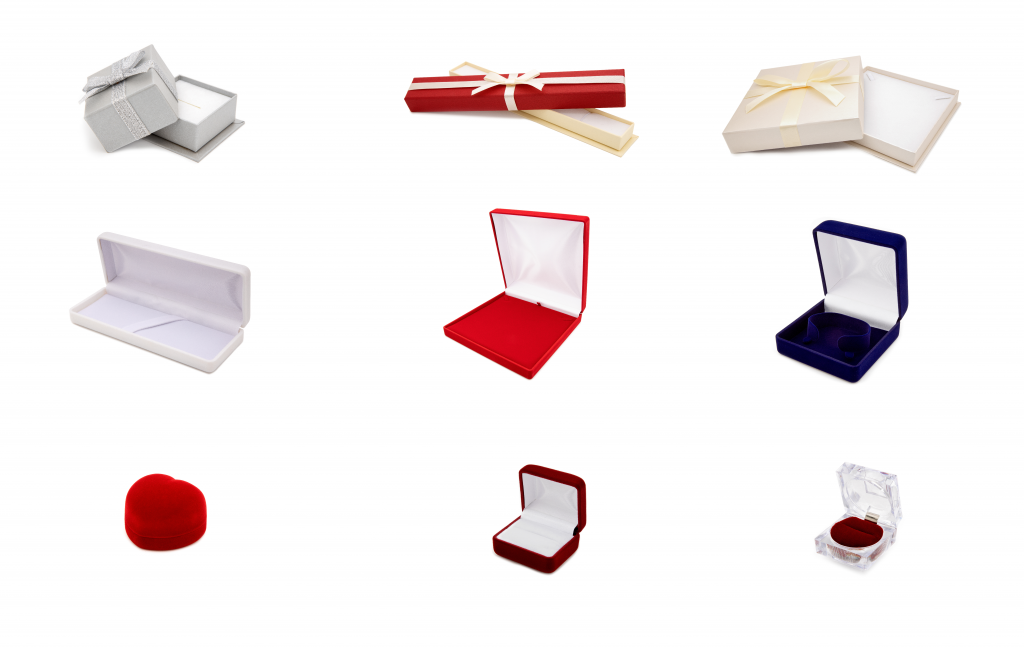 During the first years of our original polish company we sold jewellery cases exclusively. Jewelers were our first clients. Even though our current stock is rich in many different products for different industries, we still provide jewellery boxes to our old and new clients regularly. 
We offer velvet and cardboard boxes. Our most popular boxes are:
Rings – Heart-shaped box FU-24
Engagement rings – FU-29 box
Necklaces – FU-12 box
Neck-chains and large necklaces –  FU-23 box
Bracelets – FU-5B box
If you are not sure, which case will suit your products best – please contact us. We will advise you, which boxes would be the best for your needs – we have over 20 years of experience. 
5.

     
Boxes for religious items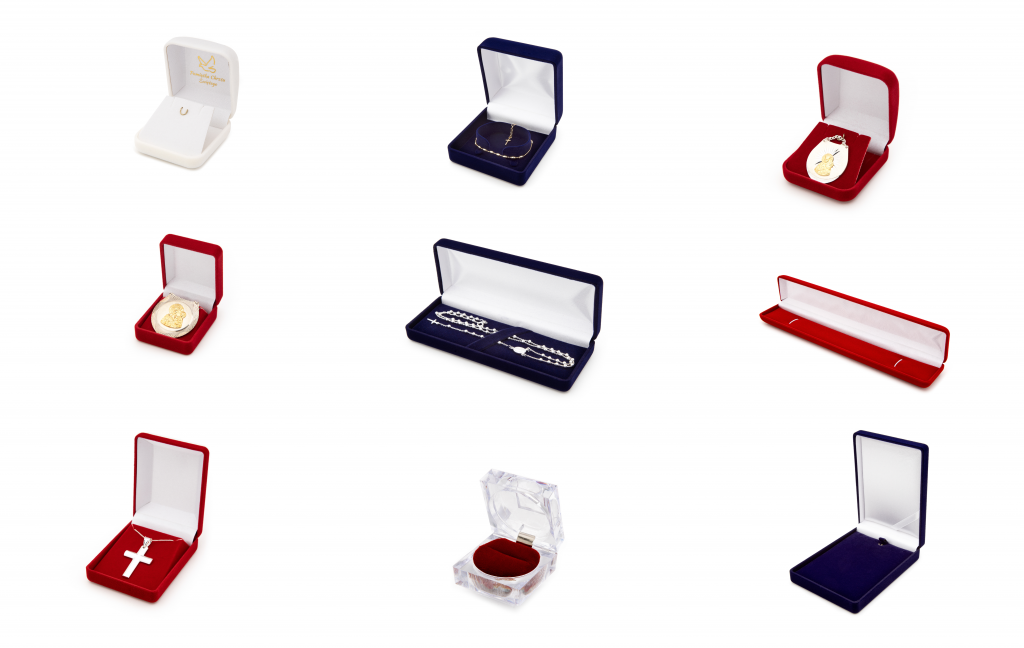 Our jewellery packaging fits religious merchandise very well. This includes rosaries, crosses, pendants and more. We regularly provide elegant boxes for many religious items businesses all over the world.
We recommend velvet packaging, such as:
Rosary – FU-12 box
Pendant – FU-2 box
Christian cross – FU-51
Medaliki – FU-4
Rosary ring – PP-2
6.

    
Boxes for advertising accessories & corporate gifts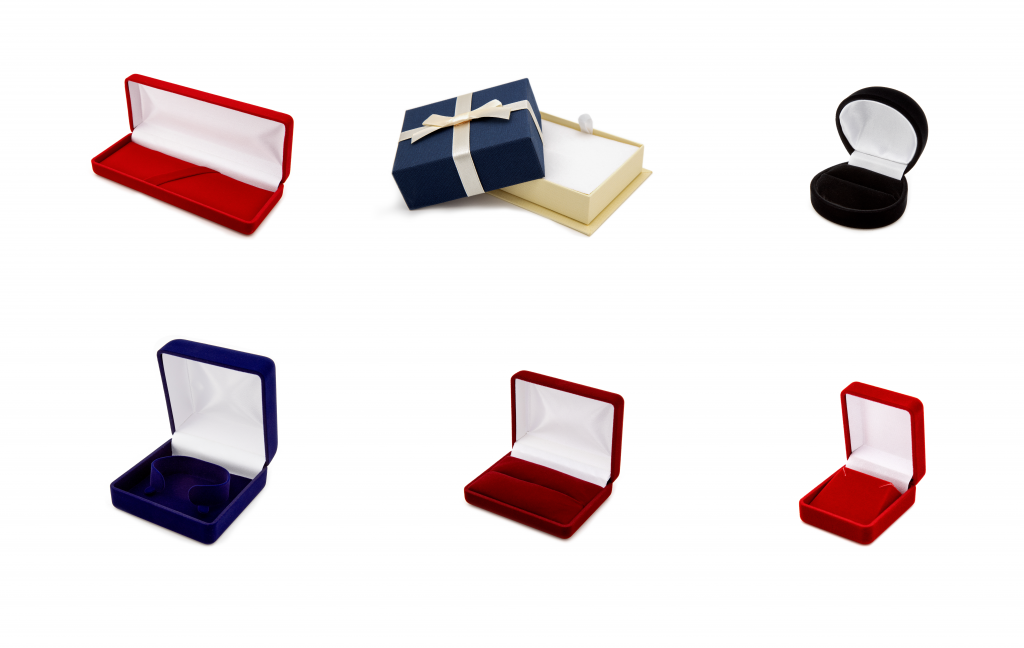 For corporations, which want to make custom gadgets for their employees we can offer many different packaging options. These cases are perfect for: pens, emblems, pins, medallions and keychains.
Most popular items are:
Pens or keychain – FU-12 box
Pin – FU-15 box
Medaliki – FU-4 box
Emblems– FU-51 box
Silver jewellery – CT-14 box
7.

    
How to place an order
To place an order contact us via Email, Telephone or through a contact form. 
In case you have questions regarding the price, availability or the minimum order quantity, please contact us through any aforementioned means. For boxes in our current offer, we provide prices immediately. For orders with custom elements (i.e. prints or pads) -we need up to 24h to prepare a price calculation. 
When the order is completed we offer two payment option – bank transfer (based on Pro-Forma Invoice) or Cash on Delivery (UPS). For returning clients we offer payment after delivery option.
8.

     
Estmiated time of delivery 
After the order is paid for, we send it within 24 work hours. We try our best to send orders the same day they were placed. For orders paid and confirmed before 14:00 CET, we ship the same day. 
For custom orders (i.e. prints or pads) the estimated time of shipment vary. For custom prints on our boxes we require around 7 days to complete them. For custom pads we require approxiemately 3 weeks. 
If you have questions regarding our offer, please contact us. We are available Monday – Friday between 9:00 – 16:00 CET. 
Mateusz Czarnocki                                                                   
+48 600 224 999