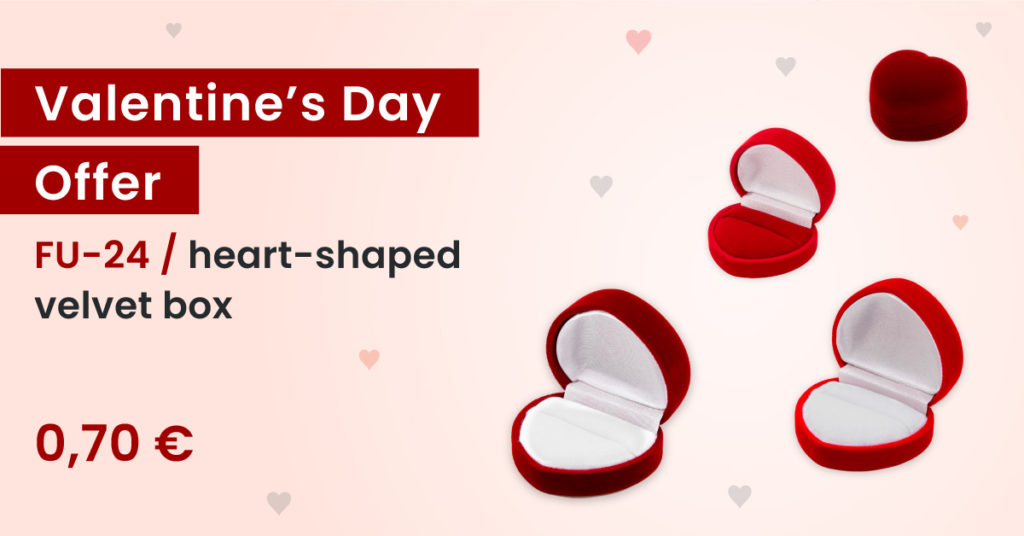 Heart shaped Jewellery Box is a velvet case that is widely popular in Europe and the rest of the world. Due to it's interesting shape, durability and also price – it is an obvious choice for many jewellery stores and sellers. It's also suitable for all types of rings – golden, silver and others – while also serving as a perfect packaging for celebrations such as Valentine's day. Heart shaped jewellery box is an excellent choice for Saint Valentine's Day. How do you pack jewellery in it and where to buy it? Please keep on reading.
Heart Jewellery Box – How to choose a perfect jewelry box?
Jewellery Packaging is an important addition to all kinds of jewellery, no matter the occassion – you can pack all types of rings in it, including wedding rings and engagement rings. You should always consider, how the jewellery should be stored and present the client with the option, that suits him the most. Elegant packaging makes the client wanting more, which will surely make him return. On top of that it keeps your jewellery safe from possible damage e.g. scratches or dents – perfect packaging will eliminate this possibility entirely.
Jewellery packaging for Valentine's day – what to choose and where to buy?
Valentine's day is a perfect occassion to introduce thematic jewellery boxes into your offer e.g. heart shaped or red jewellery packaging. this colour is reminiscent of love, which makes it a good choice for all kinds of gift, especially given by your clients to their significant others. It also matches gold and silver nicely.
Alternatively you can decide on a more minimalistic jewellery box, for example in simple, rectangular shape, but in red. This jewellery box will be able to store even multiple items, (e.g. wedding rings). Many clients value the simple look greately and will surely be grateful that their items are packed appropriately and safely.
The above mentioned boxes are available to buy in our wholesale store. They are in stock, ready to be shipped within 24h of the confirmation of your order. They come in many colours and most most importantly – are inexpensive. We have a large stock and our clients can be sure, that there will be no shortage, even during the ,,hot" Valentine's day period. Thanks to our 20+ years of experience, we know the needs of Jewelers and we always try to meet their expectations.
Heart shaped Jewellery Boxes in bulk – wholesale.
In our offer you will find jewellery packaging in shape of a heart sold in bulk. Our company specialises in production and sale of elegant jewellery packaging. For over 25 years we supply ur Polish and international clients with high quality packaging in affordable prices. Every year we complete over 1000 orders for a wide range of clients. If you are looking for a reliable supplier of such goods for your own business – please do not hesitate to contact us through telephone, email or via contact form available on our site.